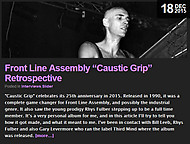 Front Line Assembly "Caustic Grip" Retrospective
"Caustic Grip" celebrates its 25th anniversary in 2015. Released in 1990, it was a complete game changer for Front Line Assembly, and possibly the industrial genre. It also saw the young prodigy Rhys Fulber stepping up to be a full time member. It's a very personal album for me, and in this article I'll try to tell you how it got made, and what it meant to me. I've been in contact with Bill Leeb, Rhys Fulber and also Gary Levermore who ran the label Third Mind where the album was released.
To start with, if it wasn't for "Caustic Grip" I wouldn't be writing this. Other than the obvious fact that I wouldn't have an album to write about, this album made me such a hardcore fan of Front Line Assembly and electronic music in general that it set me on the path to writing for Release Magazine. I had been a subscriber to the printed magazine (one of the biggest music magazines in Swedish at the time) for a while. My first contact with our editor-in-chief Mikael Kahrle. He had interviewed Rhys Fulber while Fulber lived in Release's hometown Gothenburg for a short while, they were both in their teens then. Anyway, I sent an e-mail where I suggested I should write about the then upcoming album "Poem" by Front Line Assembly side project Delerium. We started e-mailing back and forth a bit, and suddenly I was drafted into writing reviews for my favourite magazine. And if I hadn't discovered FLA in 1990 this probably wouldn't have happened.
My daytime job is developing the website for a local newspaper in Skellefteå, located in the north of Sweden, but the first web site I ever did was a Swedish FLA fan site in 1994. I had a discography and everything. A while after that I discovered Jon's (the Mindphaser founder) British fan site, which later transformed into Mindphaser and the forum it became known for. Through that forum I discovered a global fanbase and met up with people in both Holland, Germany and England. People who I'm still in contact with and share the passion for music with.
Läs hela artikeln
Publicerad: 2017-12-18
Läs mer om Release Music Magazine i katalogen
Fler artiklar knutna till Release Music Magazine
Fler tidskrifter i kategori MUSIK